Our measurements are consistent with Australian sizing standards and reflect age – age is often a better indicator than size charts. For example a size 4 is designed to fit a 4-5 year old. Don't be tempted to buy a size too big so you will get two seasons' wear. Buy the correct size and have it fitting snugly the following year instead. When rashies are too big for a child, they create drag through the water making it more difficult for the child to swim. It also puts unnecessary drag on the garment each time it is worn. If the garment you are purchasing is marked a generous fit, downsize if your child is smaller than average. Likewise if it is marked a small fit, upsize if your child is larger than others his/her age. All our rashies have extra length in the body so there is no need to upsize for extra length. Of course, any shirt that does not fit perfectly can be returned for a full refund (provided it isn't a sale item) or exchanged for a better fit.
UV SUITS
UV suits are true to size. If your child is 2, purchase a size 2. If they are approaching 3, purchase a size 3.
BOARDSHORTS
These are true to size.
LADIES
Our ladies range is a generous fit. All sun shirts have extra length in the arms and body – not only providing maximum coverage but also giving the illusion of length which has a slimming effect (yay!). If you normally wear a Size 12, a 12 will have ample room. (Our shirts are designed to skim not cling!) If you are between sizes for example a 10-12, or prefer a firmer fit you should downsize to the 10 if purchasing from our 4 star range. Our 5 star range is a firmer fit so if you are between sizes you should upsize.
You will find size charts on each product when you arrow across the photos below the main photo.
FULL PIECE BATHERS
Our full piece bathers are an average fit. If your child is large for their age, upsize.
TRUNKS
These are a smallish fit for girls. If your child has a generous derrière, upsize. Boys often have smaller bottoms, so they are pretty true to age. All our trunks have drawstring waists, so if in doubt, upsize. The trunks look fine if a little big (unlike rashies which look awful when too big).
MENS
We have tried and tested these on all the men we could get our hands on and they are true to size. If your man thinks he is an XL – he almost certainly is!
HATS
The exact measurements for each of the hat sizes, boys and girls, are as follows: extra small hats are 42cm (approx 0-1years), small hats are 48cm (approx 1-2 years), medium hats are 53cm (approx 3-6 years),and large hats are 60cm (approx 7-14 years).
If in doubt, please ring us! It is our job – we love to chat and we also want you looking as good as possible on the beach – you are our best form of advertising!
CHILDREN'S SIZE GUIDE
This is the actual measurements of the rashies. The best instruction for choosing rashies is in our sizing notes above. Please refer to them as well as the sizing chart.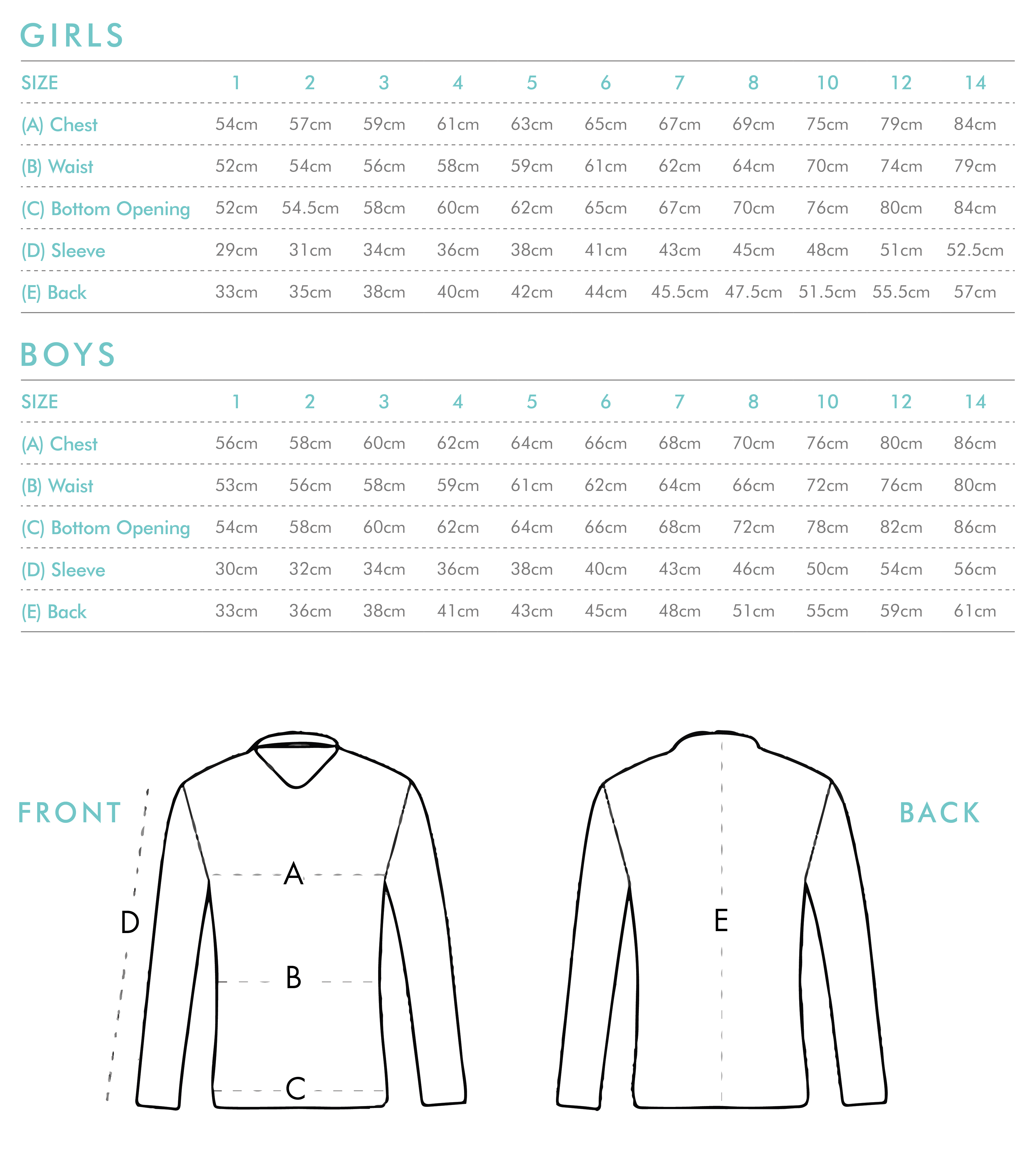 ---